Perfect Your Game at Lakewood
Past Lakewood Golf Club golfers will appreciate the improvements to the course and construction of a world-class practice facility to help sharpen your short game.
Just steps away from the golf course, you will find several greens which comprise our new short game practice facility. These greens are specially designed to help you work on almost every aspect of your short game.
Practice Facility Hours
Monday – Friday
7:00am – 6:00pm
Saturday & Sunday
6:30am – 6:00pm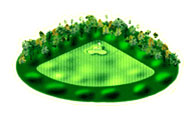 Practice Diamond
Hone your approach and chip shots for 50 yards and closer.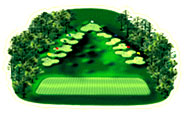 Ron Garl Scoring "V"
Players can practice wedge shots from 50 to 100 yards in 10 yard increments, developing feel and muscle memory for various lengths of wedge shots.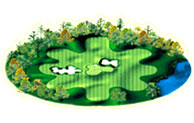 Compass Rose
The Compass Rose is designed for practicing chip shots of 50 yards or less. As the player works around the green, a variety of shots are practiced.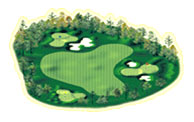 Additional components include:
Sand Practice Area – This green features different types of multiple bunkers to practice your sand game.
Putting Greens – Lakewood offers two putting greens with 25,000 square feet of putting surface.